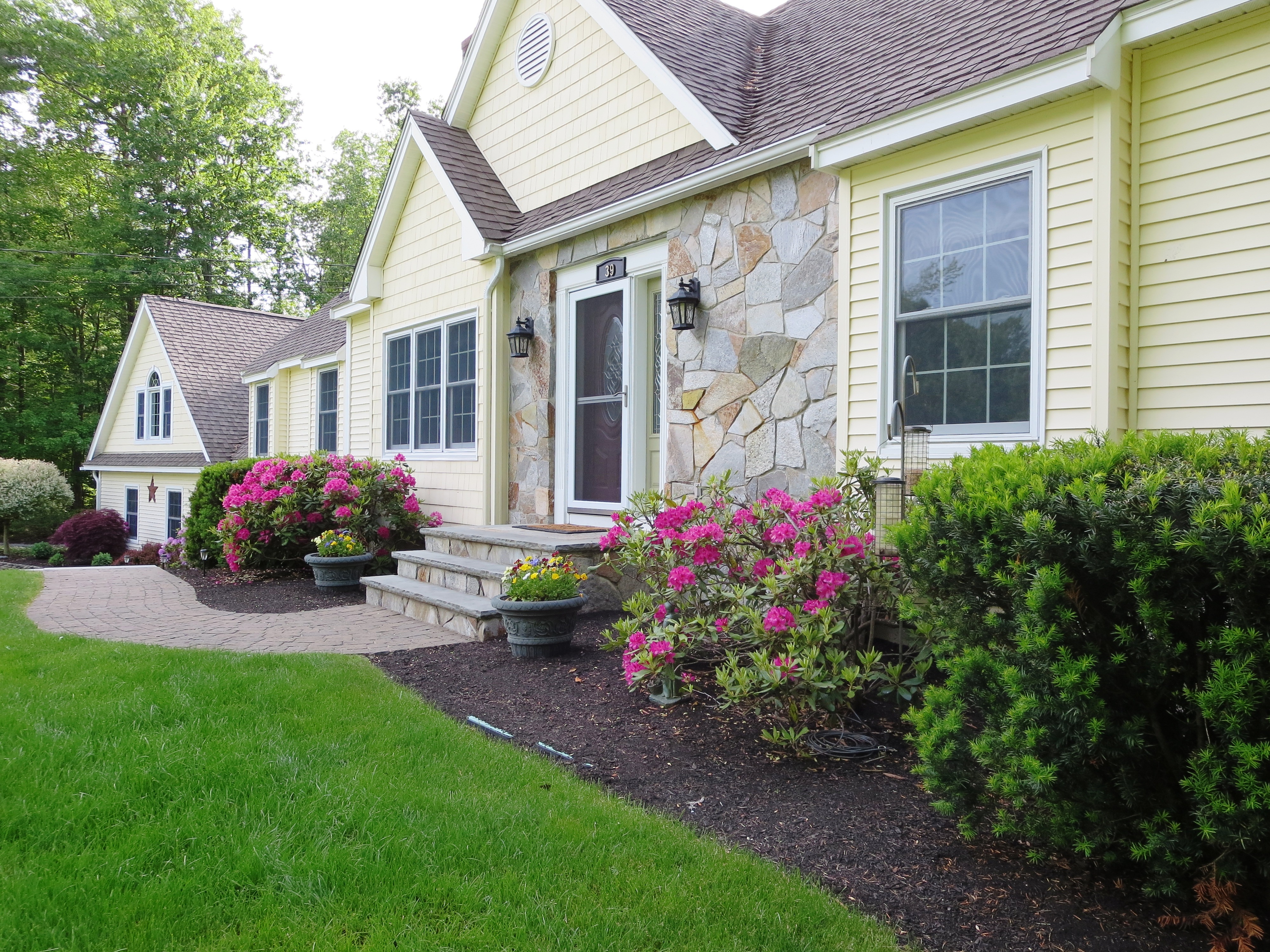 Photo by Debbie Tringali
Curb appeal is important when selling a home because you only get one chance to make a first and lasting impression. Most sellers focus on the Interior and neglect the exterior of the home. The first thing a potential buyer notices when driving by a home is its curb appeal or attractiveness. Many buyers today associate the exterior's condition with the condition of the interior. Making a good impression on the outside will inspire buyers to want to view the inside. Making exterior improvements will make a big impact, add value, and help a house stand out in its neighborhood. It's important to note that most buyers are looking for a house that won't require a lot of work before they move in.
Staging the exterior of a home helps capture the buyer's attention. Homes with strong curb appeal create more interest and take less time to sell. When preparing your house to sell, view it from the street as if you were the potential buyer. What do you notice? Is the yard nicely landscaped? Is your house inviting? If not, then your house may need some improvements and maybe some staging to make it stand out. Here are some ideas to consider when selling your home:
Front Door
A front door needs to say welcome. It is one of first things a buyer sees.
Freshen it up with a coat of paint.
Repair or replace damaged screen doors.
If entry looks dated, consider replacing front door to give it a lift and fresh look.
Siding and Trim
Power wash your house and deck to remove debris and mold or mildew. A house should be clean inside and out.
Fix or replace any broken boards and touch up with paint.
Yard
Give the yard a good cleaning. Remove any debris.
If you have children, put the bikes and toys away.
Put trash bins out of sight.
With outside rooms becoming popular, be sure your back yard is appealing and inviting as well. Create a place to entertain, perhaps on the deck or patio. Define a space with an indoor/outdoor rug. Arrange a table and chairs. Make it inviting. Give the buyers a reason to want to be in the yard.
Driveway
A driveway is major component of a property.
If it needs some work, consider patching it and adding a top coat of sealer.
Windows
Have the windows cleaned inside and out or do it yourself, but make them sparkle.
Landscaping
Well-maintained landscaping is a key factor for exceptional curb appeal.
Remove debris, trim shrubs so that they are below windows to let natural light in.
Trim back any tree limbs hanging over driveway or house.
Spread new mulch in gardens and around trees for a finished look.
Add a touch of color with flowers and potted plants.
Reseed any dead spots in lawn and keep lawn maintained and green.
Roof
Remove moss, mildew or mold from roof and replace any missing shingles.
Clean out gutters. A great looking roof stands out from the street.
Front Porch
Give special attention to your front entry.
Create an inviting space by leading the buyers to the front door with a clearly marked and attractive pathway.
Stage your porch to say "sit and stay awhile" with colorful seating. Add a pair of rocking chairs or a porch swing. Wash seat cushions to look fresh.
Place some potted plants on porch or front steps to give some added color.
Garage
A garage can make a huge impact. Freshen it up with a new coat of paint, or replace old dented, dated doors.
House Numbers
If you can't see the house numbers, clean them or replace them. Install updated house numbers to match style of house and be sure they can be easily seen from the street.
A favorable first impression of a home can mean the difference between a potential buyer
just driving by or stopping for a closer look.